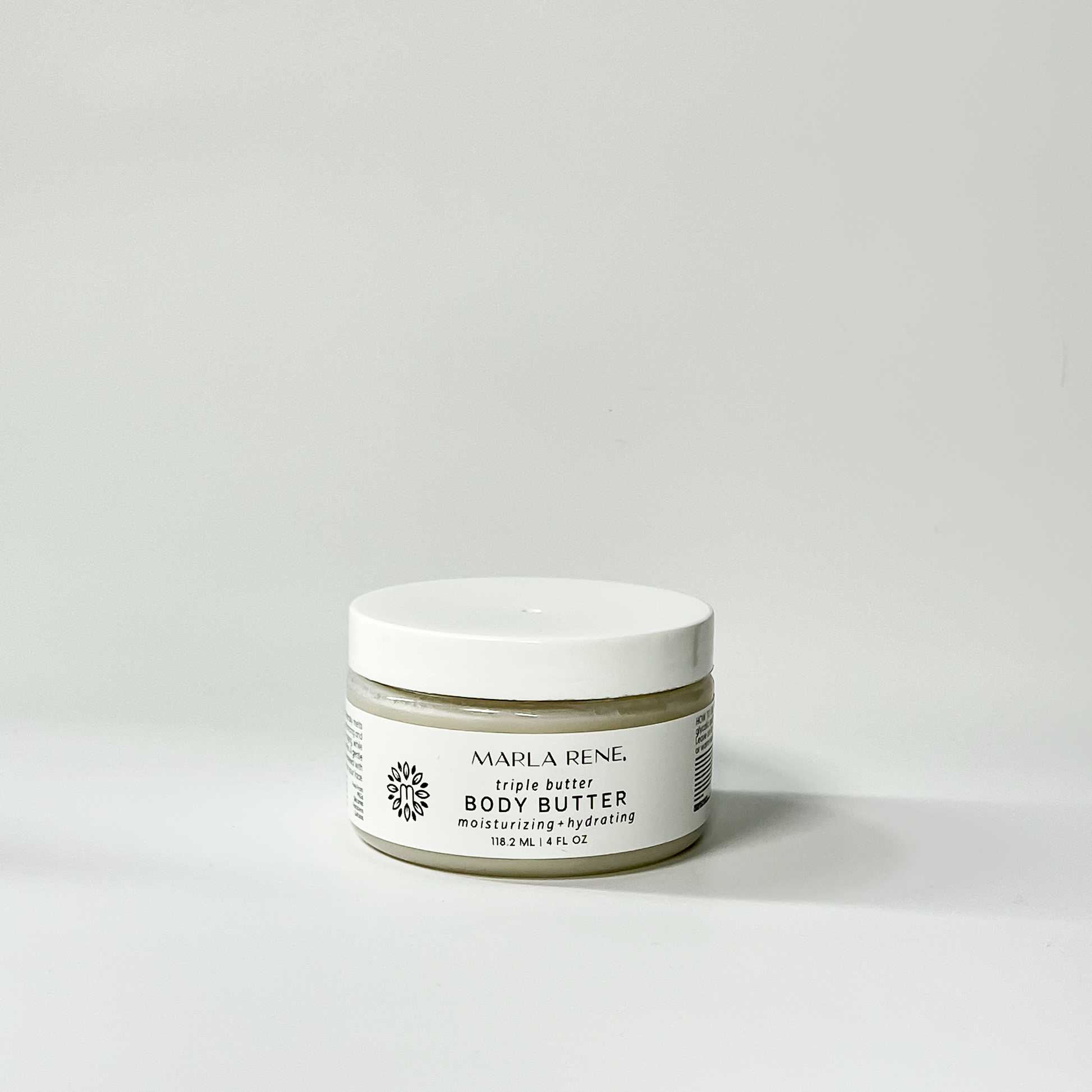 Translation missing: en.products.product.price.regular_price
$24.00
Translation missing: en.products.product.price.sale_price
$24.00
Translation missing: en.products.product.price.regular_price
Immerse yourself in the sumptuous embrace of our Triple Butter Body Butter, a lavish symphony of nature's finest moisturizers. Mango, Shea, and Cocoa butters, renowned for their high content of vitamins A and E, essential fatty acids, and powerful antioxidants, are meticulously whipped into a creamy decadence. This opulent body butter melts into your skin upon contact, imparting nourishment and hydration that endures, leaving your skin irresistibly soft
4 oz 

Sugar Cookie-
Wrap yourself in the irresistible aroma of our "Sweet Indulgence" fragrance, where you become the most tantalizing treat. As the scent of sugar crystals and freshly baked cookies envelops you, a delectable blend of cookie dough in the heart teases the senses. The luxurious base notes of sweet vanilla and rich butter promise to make you utterly irresistible, leaving an enchanting trail that your man simply won't be able to resist. Prepare to be adored and desired, as this fragrance turns you into a delightful, irresistible delight.

Brown Sugar+Fig-
Indulge in Brown Sugar + Fig a mesmerizing scent that marries the luxurious allure of California figs with the sweet warmth of brown sugar. The fragrance opens with enchanting fig and orchid notes, leading into a heart rich with brown sugar's seductive sweetness. It settles into a cozy base of sandalwood, maple, and vanilla, creating an irresistible aura of elegance and charm. This captivating blend is a testament to sophisticated sweetness.

Strawberry Poundcake-
Savor the irresistible charm of "Strawberry Delight," a fragrance that captures the essence of a delectable strawberry feast. It opens with the tantalizing sweetness of ripe strawberries and a hint of zesty lemon, leading into a heart that celebrates the soft, sugary allure of fluffy pound cake and sparkling sugar crystals. The scent culminates in a comforting embrace of creamy whipped cream and smooth vanilla, crafting an enchanting aroma that evokes the joy of indulging in a luscious strawberry dessert.

Cabana Crush-
A Lucious fragrance that melds gourmand sweetness with tropical allure. The journey begins with the toasted warmth of pistachio and the rich creaminess of coconut, evoking a lush, exotic paradise. The heart unfolds with the subtle sweetness of Tonka bean and the captivating aroma of Heliotrope, adding depth and intrigue. This aromatic story culminates in a seductive blend of Vanilla Musk, Sandalwood, and salted caramel, creating an irresistibly inviting silage.

Blackberry+Saffron-
Blackberry Saffron weaves an enchanting fragrance, where the richness of blackberries and plums takes the spotlight. In this sophisticated blend, the exotic allure of purple saffron intermingles with the warmth of amber and the comforting sweetness of vanilla.






























































































































































































































































































































Shea butter: An excellent moisturizer for the skin. It conditions and softens, as well as moisturizes dry, cracked and parched skin, leaving your body radiant with a natural glow. It provides elasticity to the skin and keeps it in shape by keeping your tissues nourished with proteins, minerals and vitamins.

Mango Butter: A luxurious and creamy fat that is rich in vitamins A and E, lauric acid and Vitamin D. This helps to encourage the skin to produce new, healthy skin cells, improving the skin's texture and elasticity.

Argan Oil: Has an abundance of vitamin E, that can help improve water retention in the skin. Argan oil rejuvenates skin by slowing down the aging process, preventing wrinkles and fine lines while omega 6 fatty acids help increase elasticity for more youthful looking skin.

Safflower Oil: Offers both occlusive [meaning it forms a seal over the skin] and emollient [nourishing] properties that create a moisture barrier on the skin as well as absorbing into the skin to deliver essential fatty acids and nutrients that provide moisture and hydration
Apply to your entire body after bathing
Mango Butter, Shea Butter, Cocoa Butter, argan oil stearyl alcohol, Fractionated Coconut Oil