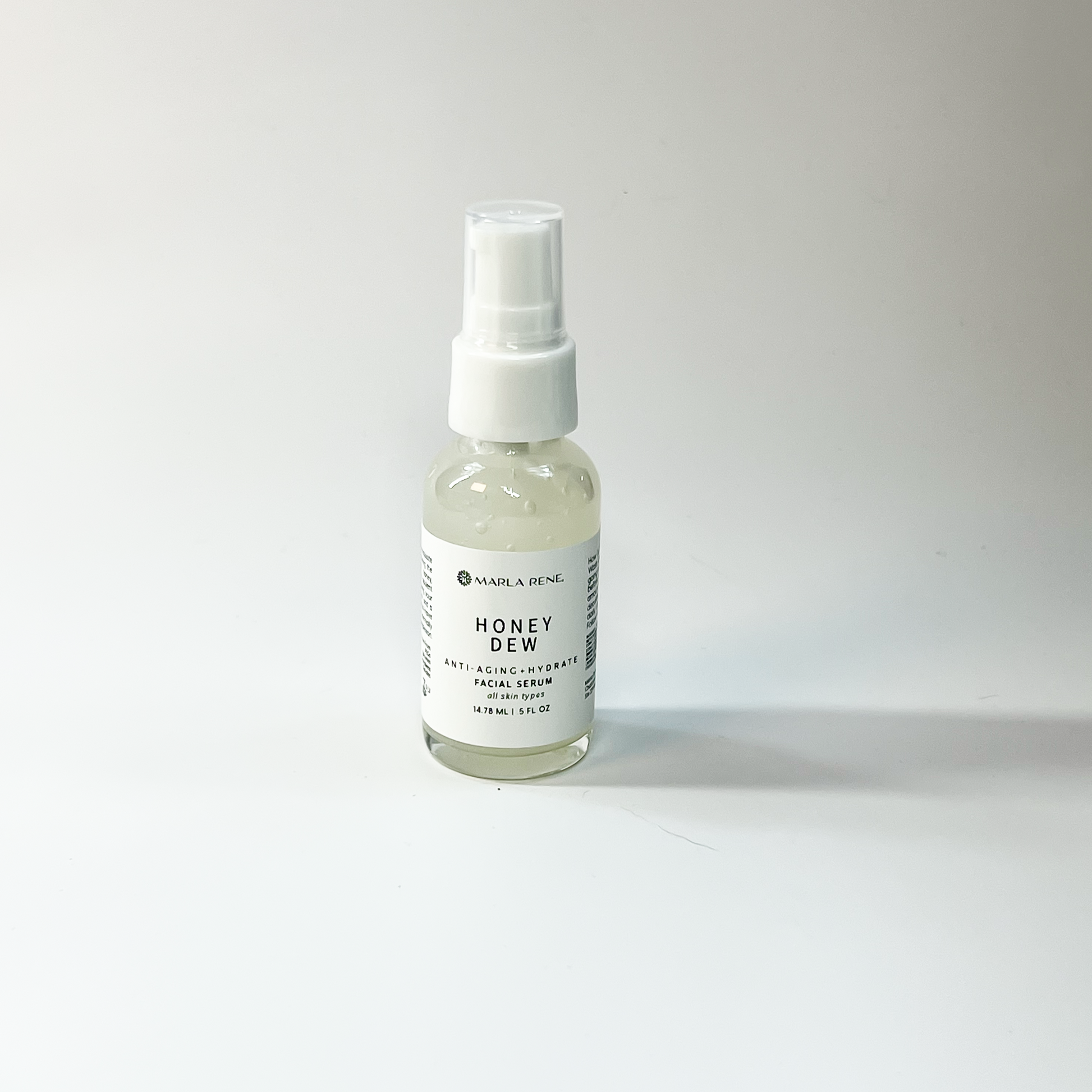 Translation missing: en.products.product.price.regular_price
$48.00
Translation missing: en.products.product.price.sale_price
$48.00
Translation missing: en.products.product.price.regular_price
$3.86
Unleash the power of nature's most precious gifts with Honey Dew, the epitome of luxury skincare. This enchanting serum is crafted with the finest blend of bee propolis, honey, and royal jelly, creating a mystical elixir unlike any other. Allow the indulgent combination of bee propolis and royal jelly to work their wonders, revealing skin that is silky smooth, firm, and imbued with a youthful glow. Honey, with its humectant properties and enzymatic activity, delivers a gentle exfoliating boost that lifts and brightens the appearance of skin. Experience the epitome of beauty and radiance with Honey Dew, the ultimate solution for ageless, revitalized skin. Indulge in the ultimate luxury and revel in the beauty of nature with Honey Dew.
Propolis is rich in antioxidants and has antibacterial and anti-inflammatory properties. When used on the face, propolis can help protect and soothe the skin, improve its texture and appearance, and reduce the signs of aging. It is also known to support the skin's natural barrier function, helping to maintain hydration levels and protect against environmental stressors. These benefits make propolis an excellent ingredient for those with sensitive, dry, or mature skin, as well as for anyone looking to improve the overall health and appearance of their complexion.

MSM is thought to help improve the skin's texture and appearance, reduce inflammation, and boost hydration levels. MSM can also support the production of collagen and elastin, two proteins that are essential for maintaining the skin's firmness and elasticity. By supporting the skin's natural defense mechanisms and promoting healthy skin cells, MSM can help to improve the skin's overall health, reduce the appearance of fine lines and wrinkles, and leave the skin looking youthful and radiant.

Royal Jelly improves hydration, boosting collagen production, and reducing the signs of aging. Its high concentration of antioxidants can help protect the skin from environmental stressors, while its anti-inflammatory properties can soothe and calm irritated skin. Additionally, Royal Jelly is thought to stimulate the skin's natural defense mechanisms, leaving it looking youthful, radiant, and revitalized. These benefits make it an ideal ingredient for those with mature or dehydrated skin, or anyone looking to improve the overall health and appearance of their complexion.
Wash and pat skin dry. If you are going to use a toner, apply the toner before the serum. Apply a small amount to entire face, neck and decollete. Allow to dry. Can be used daily; can be used under make up. Follow with any of our moisturizers.
Aqua (Deionized Water), Aloe Barbadensis Leaf Juice (Organic Aloe), Hamamelis Virginiana Water (Witch Hazel Distillate), Dimethyl Sulfone (Msm), Phenoxyethanol (Preservative), Acrylates/C10-30 Alkyl Acrylate Crosspolymer, Royal Jelly Extract, Centella Asiatica Extract (Gotu Kola), Simmondsia Chinensis Seed Oil (Organic Jojoba), Sodium Hydroxide (Caustic Soda), Propolis Extract, Honey, Ethylhexylglycerin (Preservative), Melissa Officinalis Seed Oil (Lemon Balm), Glycerin (Kosher, Vegetable), Equisetum Arvense Extract (Horsetail), Geranium Maculatum Extract (Wild Geranium), Taraxacum Officinale Extract (Organic Dandelion), Alcohol, Potassium Sorbate (Preservative), Sodium Benzoate (Preservative), Camellia Sinensis Leaf Extract (Organic Green Tea)