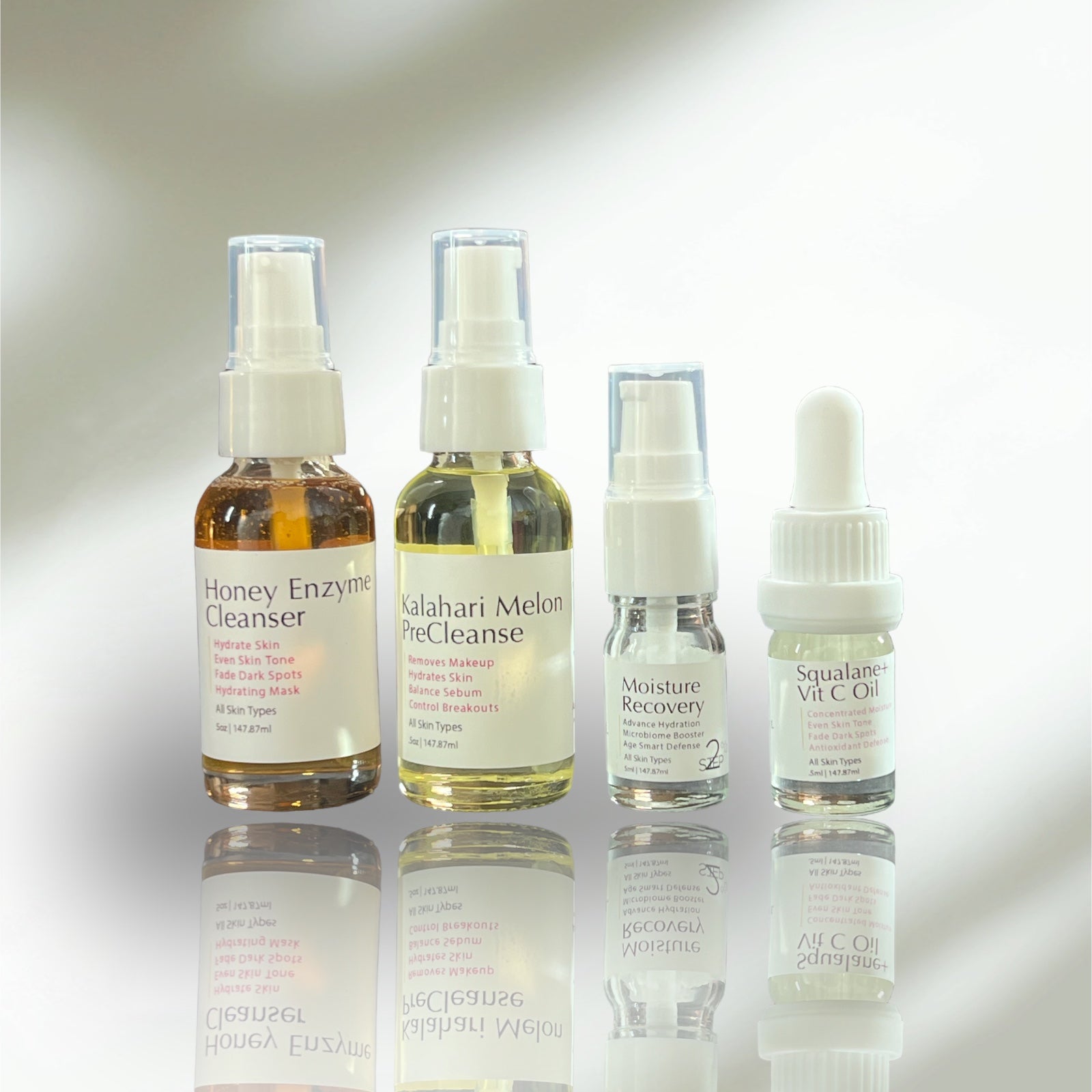 Ultimate Barrier Hydration Set
Translation missing: en.products.product.price.regular_price
$44.00
Translation missing: en.products.product.price.sale_price
$44.00
Translation missing: en.products.product.price.regular_price
1oz Kalahari Melon Cleansing Oil: Experience a deeper clean, healthier,softer ,smoother skin and a beautiful glow with the cleansing power of the South African Kalahari Melon Enzyme Cleanser. Combing the powerful pineapple enzymes of this miraculous fruit with our exclusive blend of botanical extracts will transform your skin. This cleanser also removes stubborn makeup!
1oz Honey Enzyme Cleanser: The Honey Enzyme Cleanser is a great addition to your skin care regimen. Made with the perfect blend of enzymes and honey, it will help to brighten your skin, decrease the appearance of scars, blemishes, age spots and dark marks and hydrate your skin. It makes a great exfoliator or mask!
5ml Moisture Recovery Serum: Boost, bounce, and lock in moisture with our Hyaluronic Acid Serum! This super-charged formulation uses potent ingredients to restore elasticity and firmness for a more youthful appearance.
5ml Squalane + Vitamin C Facial Oil: This lightweight dry oil is sure to become a summer favorite as it protects, controls oils and minimizes the appearance of pores! A blend of top luxury plant based oils loaded in nutrients that will leave the skin nourished, hydrated and with a dewy summer glow!
Ultimate Barrier Hydration Set