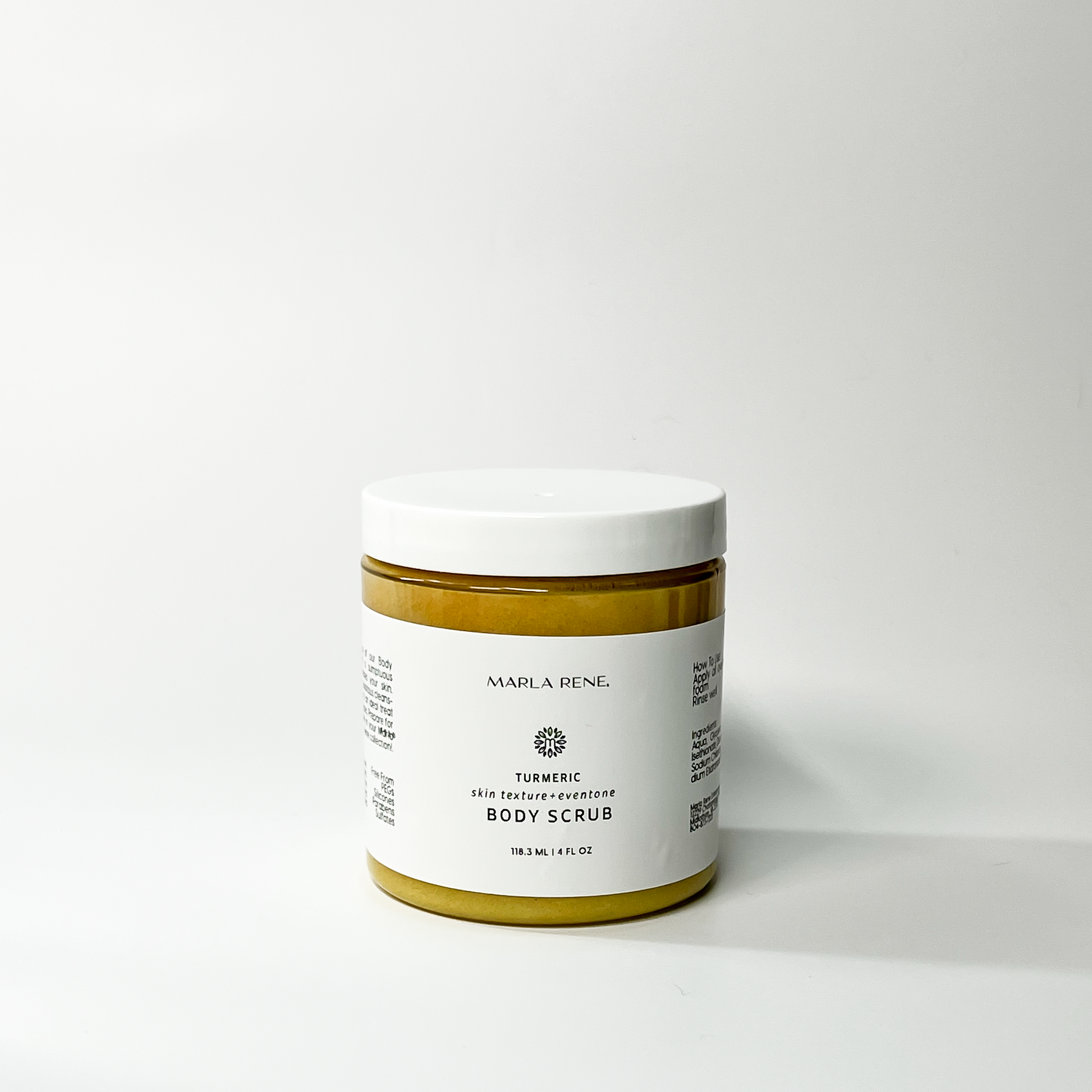 Translation missing: en.products.product.price.regular_price
$28.00
Translation missing: en.products.product.price.sale_price
$28.00
Translation missing: en.products.product.price.regular_price
Elevate your skincare routine with our Turmeric Body Scrub, a natural exfoliant that nurtures and brightens your skin. Infused with the powerful benefits of turmeric, this scrub works diligently to even out skin tone and enhance your natural radiance. It gently sloughs away dead skin cells, uncovering a smoother, more luminous complexion beneath. Ideal for those seeking to naturally improve their skin's appearance, our Turmeric Body Scrub is your key to a vibrant, glowing complexion.

Argan Oil: Is a natural, luxurious skin care ingredient that naturally benefits the skin. It is rich in vitamin E and fatty acids and is said to protect from sun damage, moisturizes, treats a number of common skin conditions such as acne, eczema and rosacea, heals infections and helps wounds heal faster.

Babassu Oil: Has softening properties that help maintain healthy skin and hair, making it a great addition to your facial cleansing routine for hydrating every day. The natural oils in Babassu are rich in essential fatty acids and antioxidants, which combine to nourish the skin and prevent premature aging.

Turmeric Powder: Turmeric is considered to be a potent ingredient for skin lightening and revealing glow. It works by helping the pores to clear up, thus allowing your skin to glow from within.
Caprylic/capric triglyceride, Sucrose, Soybean Oil, Argan Oil, Babasu Oil, Cocoa Butter, Cetyl Alcohol, steric acid, Lemon Peel Oil, Bearberry Oil,Papaya Seed OIl,Turmeric Extract,White Willow extract, Behentrimonium Methosulfate, Phenoxyethanol (and) Caprylyl Glycol (and) Sorbic Acid