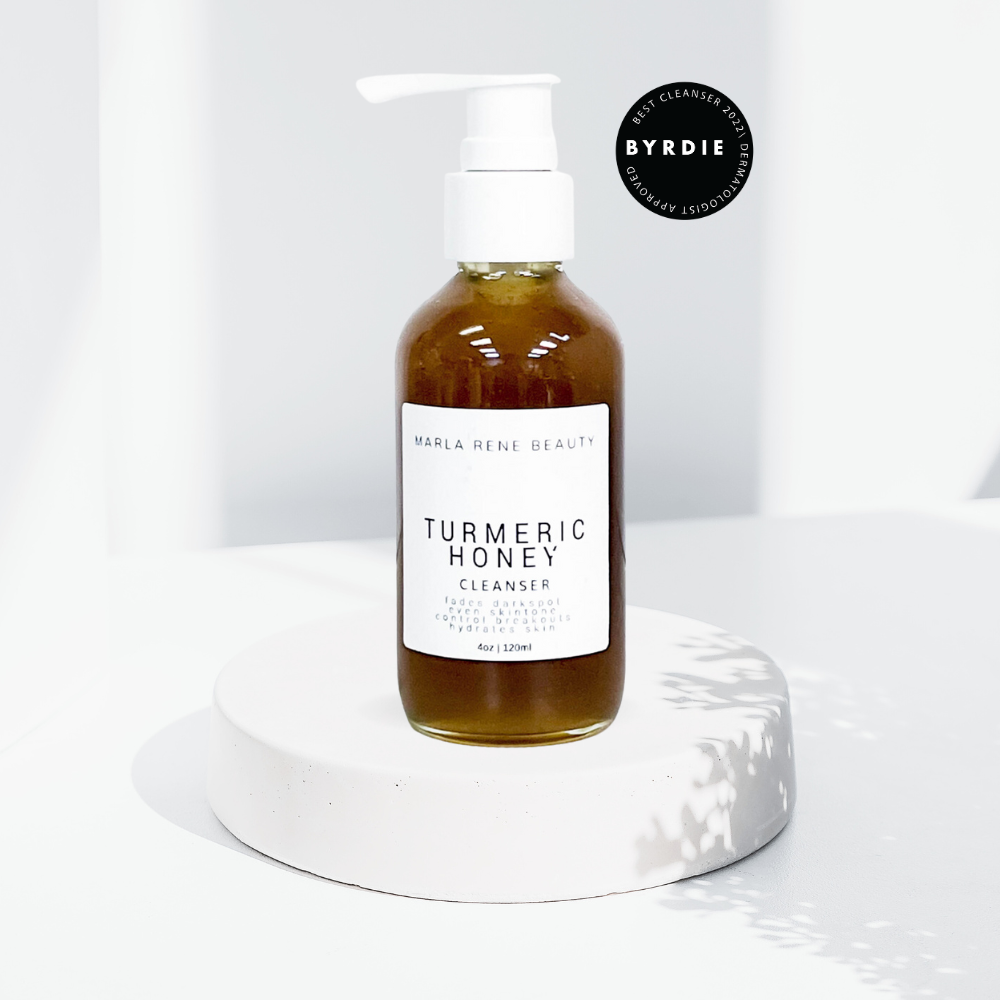 Translation missing: en.products.product.price.regular_price
$48.00
Translation missing: en.products.product.price.sale_price
$48.00
Translation missing: en.products.product.price.regular_price
This invigorating formula is enriched with skin-nourishing botanicals to cleanse the face of dirt, makeup, and pollutants. Our signature 3-in-1 Complex of camu camu, curcumin and licorice root helps brighten the complexion while decongesting pores and diminishing redness and inflammation. Skin will be left feeling healthy, velvety, and refreshed. Suitable for all skin types.

KEY BENEFITS:

Camu Camu: Antioxidant and high source of vitamin C to help brighten the skin

Lemon Essential Oil: Helps with reducing hyper pigmentation, Dark Spots, Toning and evening out skin complexion

Licorice Root: Aid with brightening the skin, acne scarring, hyperpigmentation. Its a natural non toxic alternative to Hydroquinone.

Turmeric: Helps with brighten and even bout your skin tone, hyperpigmentation as well as dry skin and dark circles.
Pump approximately a dime size amount into dry palm. Gently apply to face. Slowly incorporate small amounts of water as you gently massage, cleansing the face. Rinse with clean warm water. Mask: Apply a fine layer of honey cleanser to dry skin and leave for a 5-10 minutes, wash off with warm water for a glowing complexion.
Mel (Honey), Glycerol (Vegetable Glycerin), Coco-Glucoside (and) Glyceryl Oleate, curcuma longa (Red Turmeric) Extract, 4-Hydroxyphenyl-alpha-D-glucopyranoside (Alpha Arbutin), Myrciaria Dubia (Camu Camu) Extract, Glycyrrhiza Glabra (Licorice) Root Extract, Lactobacillus(Lemon) Peel Ferment Extract, Propanediol, Phenoxyethanol (and) Ethylhexylglycerin, Curcuma Longa (Turmeric) Powder, Citrus Limon (Lemon) Essential Oil, Curcuma Longa (Turmeric) Essential Oil
Face Refresh
The turmeric honey cleanser leaves your skin radiant, fresh and clean. It has done wonders for my skin and my daughters skin pigmentation she developed from stress during her college years. We're both glowing and it doesn't dry out not even during the brutal winter months here in IN. I don't even have to follow up with a moisturizer every time! This would be great in a body wash. Thanks Marla:)
OHHkay for the Turmeric Honey Cleanser come through... Thanks so much for sharing. Body Wash???? don't give me any new ideas :-)!
Amazing!
Love how it makes my skin feel so soft and smooth!! only downside is the strong turmeric smell but that's something I will get used to. Highly recommend! makes my face feel so clean, and the good morals of this company make the product even more worth it!
As always this cleanser does not disappoint. No matter how …
As always this cleanser does not disappoint. No matter how many other ones I try, this has always been my go to. Great as a cleanser and also an amazing mask. You can't go wrong with one.
I'm in love with this cleanser. It leaves my skin …
I'm in love with this cleanser. It leaves my skin smooth and feeling young. I will continue to use this product.
Love love this product I wish it came on a …
Love love this product I wish it came on a body scrub