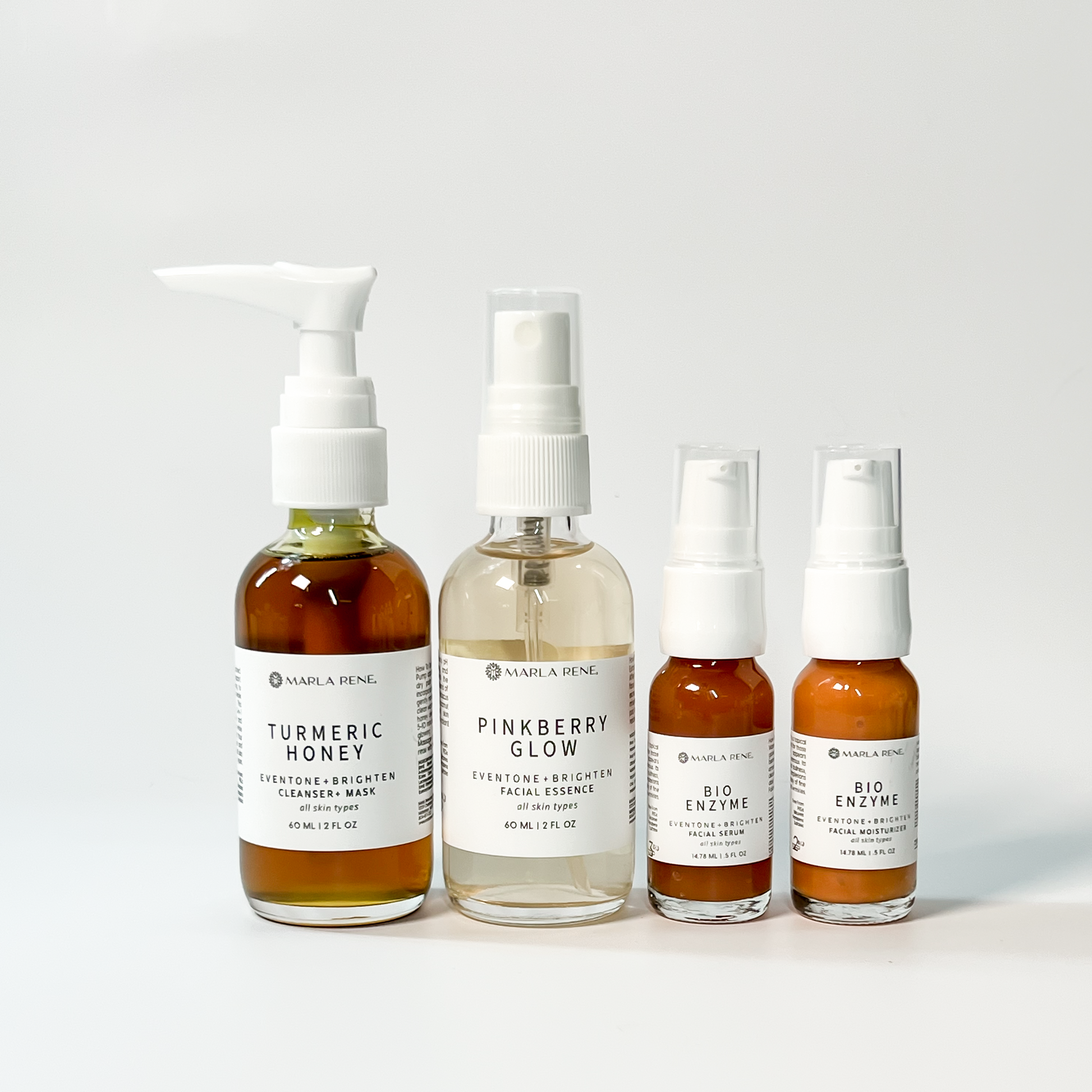 Translation missing: en.products.product.price.regular_price
$109.00
Translation missing: en.products.product.price.sale_price
$109.00
Translation missing: en.products.product.price.regular_price
$119.00
 (Previously known as Melafade)
Girl, stop dreaming about smooth, even skin tone. This 30 day system is about to turn your dreams into reality. Everything in this system I personally curated to address one of the biggest concerns we have as melanated beauties..hyperpigmentation.
Your skin will naturally start to renew itself with our raw honey, balancing out the melanin in your skin while keeping it hydrated.  The natural fruit enzymes found in the Papaya and Lemon army toward speeding up the lightening of those dark spots naturally.  Get ready to experience your renewed self within these next 30 days of skin transformation.
What one of our beauties had to say: 
"First things first, your products are phenomenal???  I always had good skin, but I still had visible pores. Guess what – no pores!! The other bonus is how even and completely balanced my skin is. I am so in love with the ease of everything, and will definitely be subscribing to your plan."

~Fatima


Cleanse - Step 1
Raw Honey Cleanser 2oz

This golden ray of cleansing goodness is perfect for all skin and even more for those that tend to be a bit more dry. The honey hydrates and brings much needed moisture while helping to decrease the appearance of any scars, blemishes, age spots and dark marks you might have. And it can be used as a mask! Dual Purpose for the win!

OR

Turmeric Honey Cleanser 2oz

Turmeric helps with brighten and even bout your skin tone, hyperpigmentation as well as dry skin and dark circles.

Camu Camu: Antioxidant and high source of vitamin C to help brighten the skin
Lemon Essential Oil: helps with reducing hyper pigmentation, Dark Spots, Toning and evening out skin complexion

Frankincense Essential Oil: Has the ability to strengthen skin and improve its tone and elasticity. Frankincense may make the scars and marks of acne ,pox, or eczema on the skin fade faster than normal healing speed.

Licorice Root: Aid with brightening the skin, acne scarring, hyperpigmentation. Its a natural non toxic alternative to Hydroquinone


Tone - Step 2
Kakadu Plum Toner 2oz

Formulated with the revitalizing power of pomegranate extract, powerful green tea extract and vitamin C rich kakadu plum. This Kakadu Plum + Turmeric + Hibiscus toner is an intensely hydrating and rich toner which will revive combination skin and help diminish fine lines.

These luxurious ingredients will nourish your skin to create a healthy and radiant glow.
The toner helps to cleanse away any residual dirt left after you cleanse your face and promotes further moisture while keeping your sensitive to normal skin balance

Serum - Step 3
Bio Enzyme Serum - .5oz

Think of Bio Enzyme Tone Renewal Serum like a vitamin C and hyaluronic acid serum with extra brightening powers. Your skin will effortlessly absorb this smooth and light weight concentrate. Experience more plump even firm youthful skin in no time with our new must have brightening concentrate.

Plant stem cells- Think lots of collagen and smooth, firm skin.

Niacinamide- The brightener in this brightening formula. Also helps with hydration and other signs of aging.

Vitamin C- Your skin's best friend. Period.
Hyaluronic acid- Holds up to 1000x it's own weight in moisture. Makes skin look and feel plump and firm.

Astaxanthin- A potent antioxidant and the reason for the red color of this serum.

Moisturize - Step 4
Melafade Moisturizer .5oz
Niacinamide as the superstar of this team....Stem Cells, Alpha Arbutin, Peptides, Astaxanthin, Seaweed Brighteners, High Level Bio-Lipids, Vitamin C, Vitamin E, Turmeric and Aloe Vera round out this potent dermal cocktail. Collagen production increases dramatically with daily use. Spots, freckles, blemish scars, hyperpigmentation, sun damage and lack of clarity are all resolved.

Or

Lumi Facial Oil .25oz

This blend of luxe botanical oils and skin-cell-renewing CoQ10 and Camellia Seed Oil will dramatically rehydrate and rejuvenate your skin at the cellular level. Leaves skin soft and silky with a renewed appearance and texture.
This facial powerhouse is formulated with the most delicate oils for your face. A Marla Rene proprietary blend of Rose, Carrot seed, Patchouli, Sandalwood, Helichrychum, Frankincense and myrhh along with papaya enzymes leaves your skin with a luminous glow . The luxe oil has proven to be a mecca of hydration and reparative benefits that will have you the envy of all your girlfriends.
My skin type is oily to normal and I have …
My skin type is oily to normal and I have dark marks I would like to clear up. The second time I used the product I could see an immediate glow and knew my skin was on the path to being clearer. I already loved the turmeric/honey cleanser so the other creams are a good compliment to the cleanser. I've been using about two weeks so I'm excited to keep using. I think I've found my perfect skin regime. Thank you Marla Rene!!
Loved the turmeric honey cleanser.
Loved the turmeric honey cleanser.
So far, it has left my skin feeling refreshed. I …
So far, it has left my skin feeling refreshed. I am going through the purging stage right now so we will see.