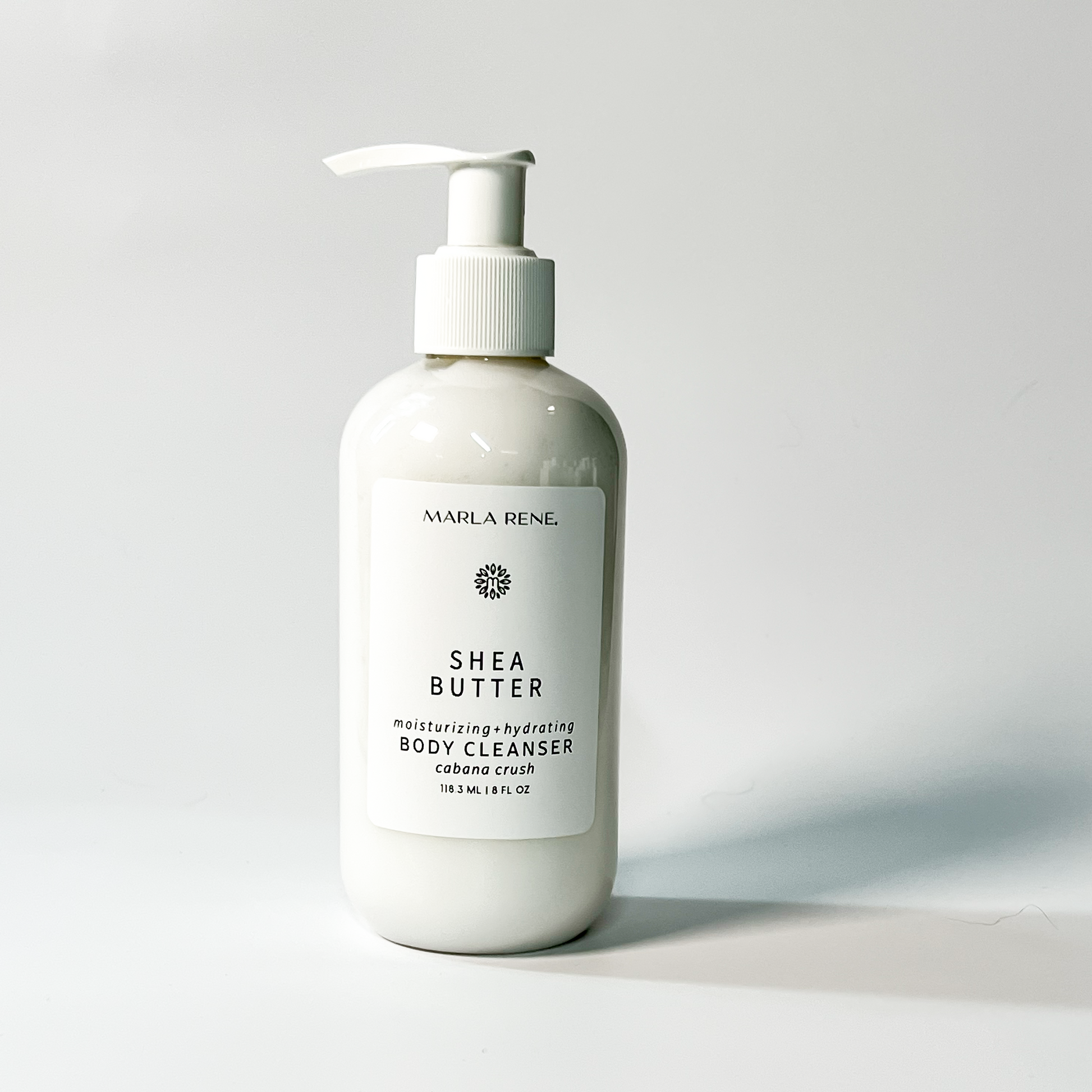 Shea Butter Body Cleanser
Translation missing: en.products.product.price.regular_price
$24.00
Translation missing: en.products.product.price.sale_price
$24.00
Translation missing: en.products.product.price.regular_price
Unveil a new chapter in skin nourishment with our Shea Butter Body Wash. Infused with the richness of shea butter, known for its deep moisturizing and restorative properties, this body wash embraces your skin in a creamy lather, leaving it feeling irresistibly soft and smooth.
CANDIED SUGAR: A fruity blend of cotton candy, lemon drops, caramel and raspberry jam on a dry down of musks.

DULCE: A sweet & sexy blend of red velvet crème and golden plum laced with a swirl of sugared musk, pink jasmine and wild strawberries.

BLACKBERRY + SAFFRON: Sweet saffron and plum balance out this decadent blend of berries and subtle spice.

LAVENDER & SPRING APRICOT: Enjoy top notes of lavender, apple, pomelo and apricot. Middle notes of magnolia, lavender, bamboo and dahlia followed by base notes of sandalwood, cedar, musk and cashmere wood.

AMBIGUITY: Enticing Neroli and Orange Blossom counter the extremely sexy and mysterious Ambergris at center stage.

4AM MEMOIRS: A delightful fruity & floral blend that opens with notes of lychee, pear and grapefruit. At the heart is a bouquet of rose damescena, and it closes with base notes of soft powder and vetiver.

NUBIAN MUSE: "formally floral smoke": The rich, woody and smoky notes and elegant bouquet of premium cigars in a mix of tobacco leaf absolute and pink pepper recreates the exquisite and rich aromas of cocktails with notes of vanilla beans and rum absolute.

MADE YOU BLUSH: Juicy lychee, crisp apple, and peach nectar blend effortlessly with a beautiful floral bouquet of white magnolia and blush rose over sandalwood and white musk.

SUGAR COOKIE: A mouthwatering aroma of fresh baked sugar cookies with hints of vanilla and butter.

BROWN SUGAR FIG: An alluring blend of the finest brown sugar and California fig.

STRAWBERRY POUNDCAKE: The delightful aroma of freshly sliced strawberries accompanied by warm pound cake with whipped cream is sure to please

CABANA CRUSH: This highly addictive scent will leave you reminiscing about your favorite beach destination. Warm pistachio and coconut cream and a kiss of salted caramel harmonize beautifully with tonka and exotic musks

YOUphoria: A lustrous and enlightened fragrance of jasmine and saffron that rest tenderly on the top while the blend of cedar and fir make up the heart of the accord and finally the ambergris gives it both the warm and cool at the same time.
Aloe Vera Juice, Cocamidopropyl Betaine, Decyl Glucoside, Sodium Lauroyl Lactylate, Kosher Vegetable Glycerin, Unrefined Shea Butter, Ethylhexylglycerin, Phenoxyethanol (paraben free preservative)